Uniphar chooses Inther Group to realize a large automation project at their DC in Ireland.
Uniphar, a supplier of medical supplies and a global partner of pharmaceutical and medtech manufacturers, has engaged system integrator Inther Group to realize a large automation project at their DC in Ireland. It will be a completely new system that will significantly expand the capacity at Uniphar.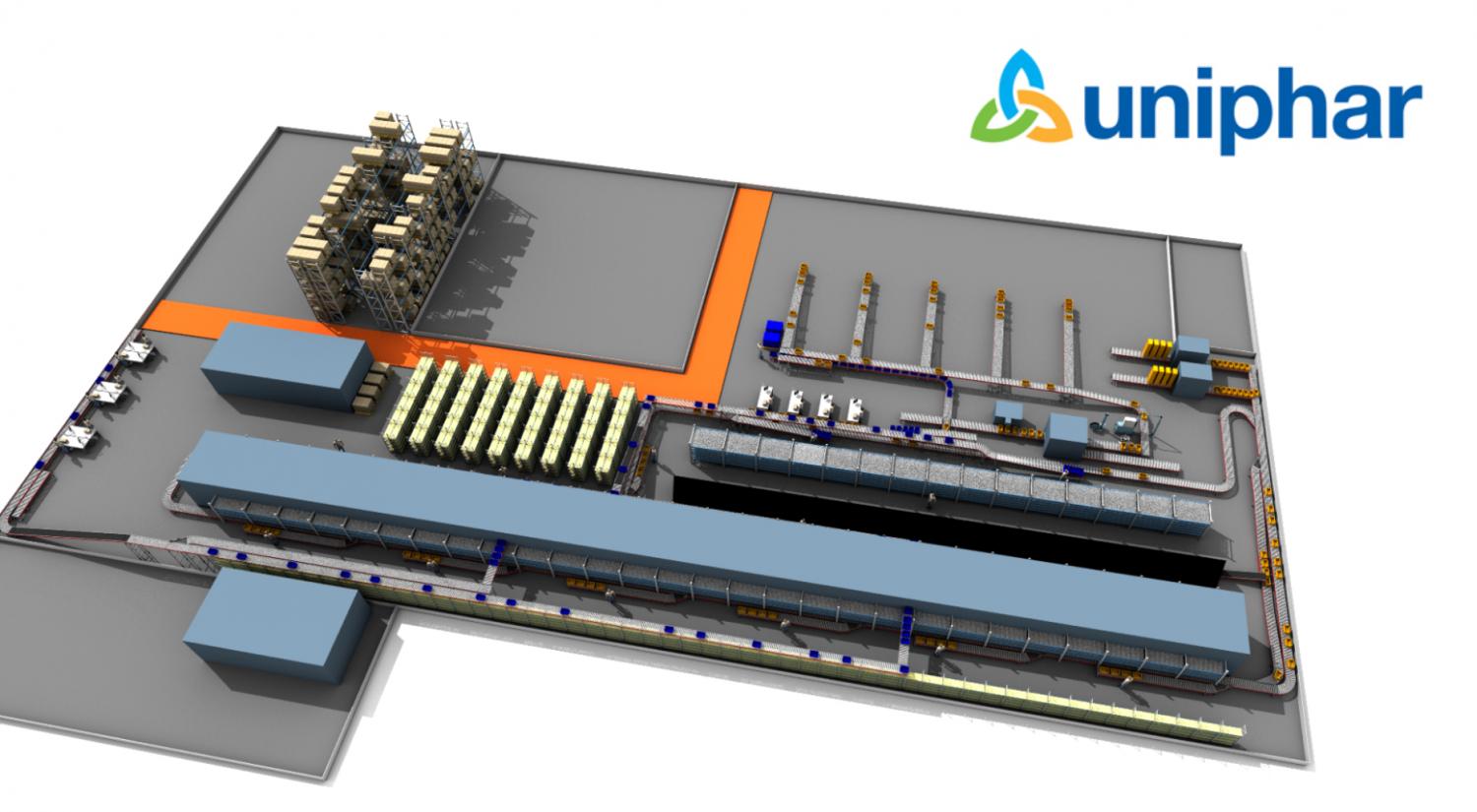 4,500 order lines per hour
Uniphar is one of the largest players in the pharmaceutical market and now supplies 160 countries worldwide. Ireland's hospitals and pharmacies are supplied directly from the 4,400 m2 DC in Annacotty. This distribution center will be equipped by Inther Group with a fully automated logistics system that can process up to 4,500 order lines per hour. To achieve this, Inther Group has designed a system in which both proven and innovative technologies are combined in one total solution.
Total concept
Marc Biermann – Head of Sales Engineering at Inther Group: "In this project, various innovative solutions from Inther Group come together in a total concept that is driven by the Inther LC software system (WES)." A miniload storage system will be implemented to store the goods, which is ideal for a diverse product range. Two cranes will be deployed in one aisle to increase capacity and also provide optimal redundancy. The entire logistics process will be linked by the in-house developed Inther Conveyor Equipment. This guarantees a short installation and commissioning time. In addition, the Automated Document Inserter (ADI) will automatically add documents in shipping boxes. The ADI prints, buffers and folds the documents, then automatically adds them to the box.
A-Frame

Inther Group's renewed A-Frame (over 36 meters long) will play an essential role in the future operation. The A-Frame is an ideal solution in the pharmaceutical world because of the fast processing of complex orders. The A-Frame guarantees the highest possible productivity and an optimal material flow, even at peak loads. Mike Strijbos – CTO at Inther Group: "Unique features such as continuous stock monitoring, real-time video registration and product heat mapping ensure that orders can be processed automatically and 100% correctly."
Unique combination

The entire operation will be managed by the Inther LC software platform, a Warehouse Execution System which links all functions in the warehouse and thus supports all warehouse processes, from receiving to shipping. The interfacing is done with SAP. Paul Hermsen – Managing Director at Inther Group: "With this system, Inther is taking an important next step in the pharmaceutical market, which is becoming increasingly important in today's world. Inther's unique combination of A-Frame, AS/RS and its Warehouse Execution System enables applications that are now available to a much larger group of pharmaceutical distribution centers. And the fact that this system is being realized in Ireland – the Valhalla for pharmacy – is of course the icing on the cake."