RF scanning - Inther Mobile
Improving the efficiency of your warehouse without paper


RF
Scanning -
Inther
Mobile
A paperless warehouse is no longer just a dream! By supporting your warehouse processes with RF scanning, you can improve the efficiency of your operation without paper. The result is a streamlined process with a quick payback time. Inther Group's solutions for RF scanning have a modular design so that they can be quickly adapted to your individual requirements. Tasks that can be handled include: single order picking, batch picking, replenishment or cycle counting. The required RF scanners are robust and meet the highest standards when it comes to wireless communication.
Tracking & tracing
With our solutions for RF scanning, wireless scanners are provided to the warehouse staff. This enables them to work quickly, flawlessly and in real-time. Operators receive their order picking instructions step by step on the display of the RF scanner. By scanning the barcodes on items and picking locations, operators can immediately check every action and prevent errors. Thanks to this verification step and the registration of every product movement, RF scanning is the ideal solution for tracking & tracing.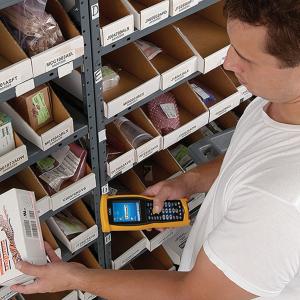 Real-time tracking and tracing
Full implementation
By choosing Inther Group's RF scanning solutions, your company benefits from one-stop shopping. We not only provide you with the right scanners and associated equipment, but also take care of the complete implementation from start to finish. We make a thorough analysis of your warehouse, so that you are assured of good RF coverage throughout the entire operation. In addition, we guarantee top quality after-sales service thanks to our own Service department.