Pick to Cart is more or less a mobile version of Put to Wall. Everything revolves around a mobile unit, controlled via the RF network, in which items can be placed directly in the shipping carton from the picking location. Picking, sorting and packing cleverly combined in one solution.


Batch picking
Pick to Cart is ideally suited for warehouses in which order picking efficiency can be increased by combining orders into batches. Walking times are minimized by picking in batches. The big advantage of Pick to Cart is that the time-consuming consolidation battle after batch picking is no longer necessary. An important additional advantage is that when batches are determined in such a way that there is an "overlap", a huge increase in productivity is realized.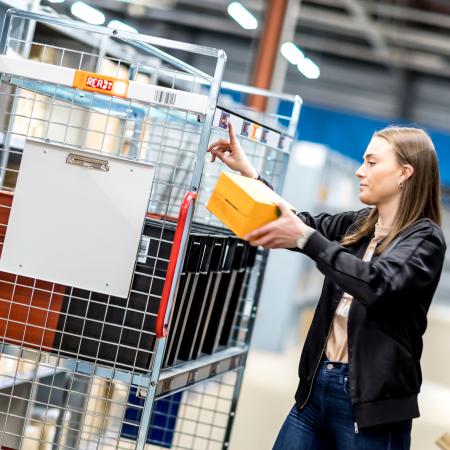 Reduce walking distances by batch picking
Sorting during order picking
Increase in productivity due to overlap
Elimination of consolidation and packing process
Cart picking
The Pick to Cart system consists of a mobile unit, in which there is room for several order carton locations, each with its own display. The operator takes the cart with him during order picking and is guided to the storage location via the display on the Pick to Cart unit. After scanning the barcode of the pick location or the item itself, the displays on the cart indicate in which order carton/cartons the item should be placed.


PICK AND PACK TO CART
Cart picking allows you to combine picking and packing in one process, by placing the shipping boxes directly at the locations of the pick cart. This way you make optimal use of the Pick to Cart system and no separate packing process is necessary. At the end of the order picking process, all you have to do is add the packing slip and close the box.