Zeeman textielSupers has very recently signed an agreement with system integrator Inther Group to realize a completely new mechanized intralogistics automation system. A comprehensive total solution for which the roof is literally going down and then raised again to be able to house all of the newest automation technologies.
Zeeman textielSupers
Zeeman textielSupers was founded in 1967 by the Dutch entrepreneur Jan Zeeman and his vision that good quality apparel and textile do not have to be expensive. This vision is still Zeeman's strength. The textile retailer has a network of 1,300 stores distributed throughout the Netherlands, Germany, Belgium, France and Luxembourg, Austria and Spain. The developments in the fast moving E-Commerce industry combined with challenges to efficiently and adequately supply these 1,300 stores, resulted that the current distribution and supply chain possibilities of the existing intralogistics solutions were no longer sufficient. Inther has designed a future-oriented total solution for the supply of the retail channels resolving current challenges and at the same time considering future expansion.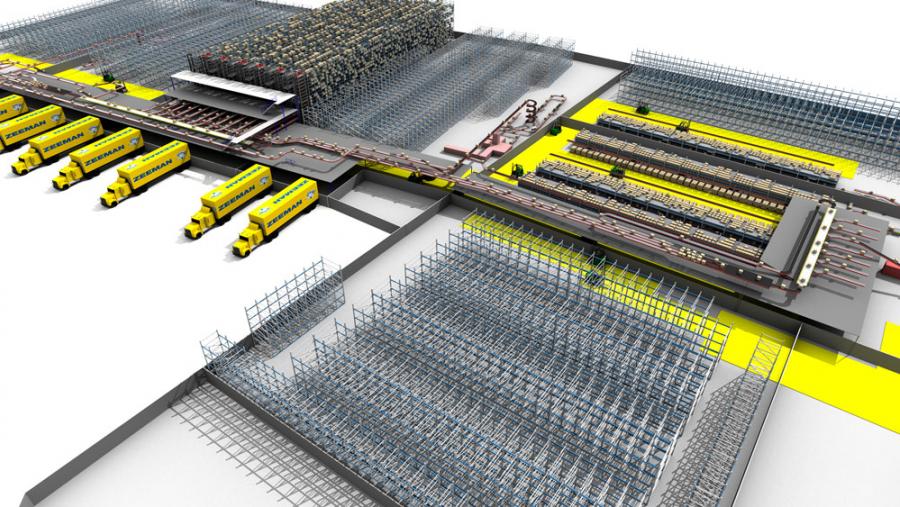 Bernard Smedema, Warehouse Manager Zeeman textielSupers explains: "Over the past period I got to know Inther as a pragmatic company who is not only able to offer excellent price/quality ratio but is also able to understand the 'why' of our logistics challenges. Extensive technological knowledge combined with competence to design based on our business needs resulted in a design enabling Zeeman to facilitate further growth of its logistics operations."
'Raising the Roof!'
The core of the total solution is an AS/RS Shuttle system existing out of 6 aisles containing 132 shuttles that can accommodate up to 100,000 boxes. In addition to the shuttle system, the solution includes a combination of depalletizer, 20 Pick to Light workstations, channelizers, Natrix sorters, telescope conveyors and semi-automatic roll container loading system. This entire project is interconnected by more than 2 kilometers of Inther Conveyor Equipment (ICE) conveyors. The roof will be raised by 7 meters to realize this totally automated warehouse. The entire operation will be controlled by Inther LC platform, the Warehouse Execution System that links all functions in the warehouse and thus supports all warehouse processes, from goods received to outbound shipments.
Marc Biermann, Head of Sales Engineering at Inther Group says: "The intensive collaboration between the Zeeman and Inther teams during the design process has resulted in a total solution that meets all the conditions to prepare Zeeman's logistics for the future."
Preparations are now in full swing and the system is scheduled to be fully operational by the end of 2022.
Martijn Herder, CEO Inther Group, concludes: "This project, which we realized together with Zeeman, fits perfectly into Inther's business strategy in terms of design solution as well as size. Over the past 25 years, Inther Group has grown into a system integrator and focusses on highly dynamic complex intralogistics systems. Innovation is a major focal point in our overall company strategy and emphasis is on well thought through solutions and not just resource focus. We aim to complete a 'Customer Journey' in true partnership with our client and throughout this process we add Inther's value from design, planning to execution."