Recently, Inther Group has implemented one of its hybrid solutions, Central Filling, at pharmaceutical wholesaler Pluripharm Groep. With this solution, Pluripharm Groep can further unburden its customers because processing of prescriptions now takes place in an even more efficient way.
The process of Central Filling
The process of Central Filling starts with forwarding and merging the prescriptions through the host system to Inther LC, Inther's modular and flexible Warehouse Execution System. Picks are then carried out in different picking areas (e.g. A-Frame, carousel). After that, order processing is started at the patient or prescription level at the Central Filling workstations. The operator first scans the tote which contains up to a maximum of 20 patient orders, followed by scanning each individual article. If one is an FMD (Falsified Medicines Directive) article, it is automatically deregistered from the NMVS (National Medication Verification System) via Inther FMD. This software solution was developed by Inther to simplify the application of this European directive and as a result also to ease the logistical processing of medicines. The main functions of the Inther FMD application are checking and deregistering individual medicines in one central database. In this solution GS1 barcodes can be scanned and transferred to the NMVS database with the specified action.
Martijn Herder, CEO Inther Group says: "Central Filling is an addition to the portfolio of Inther and provides us with a total package of solutions mainly aimed at the pharmaceutical industry. Central Filling is characterized by its 100% control and unique integration with Inther FMD."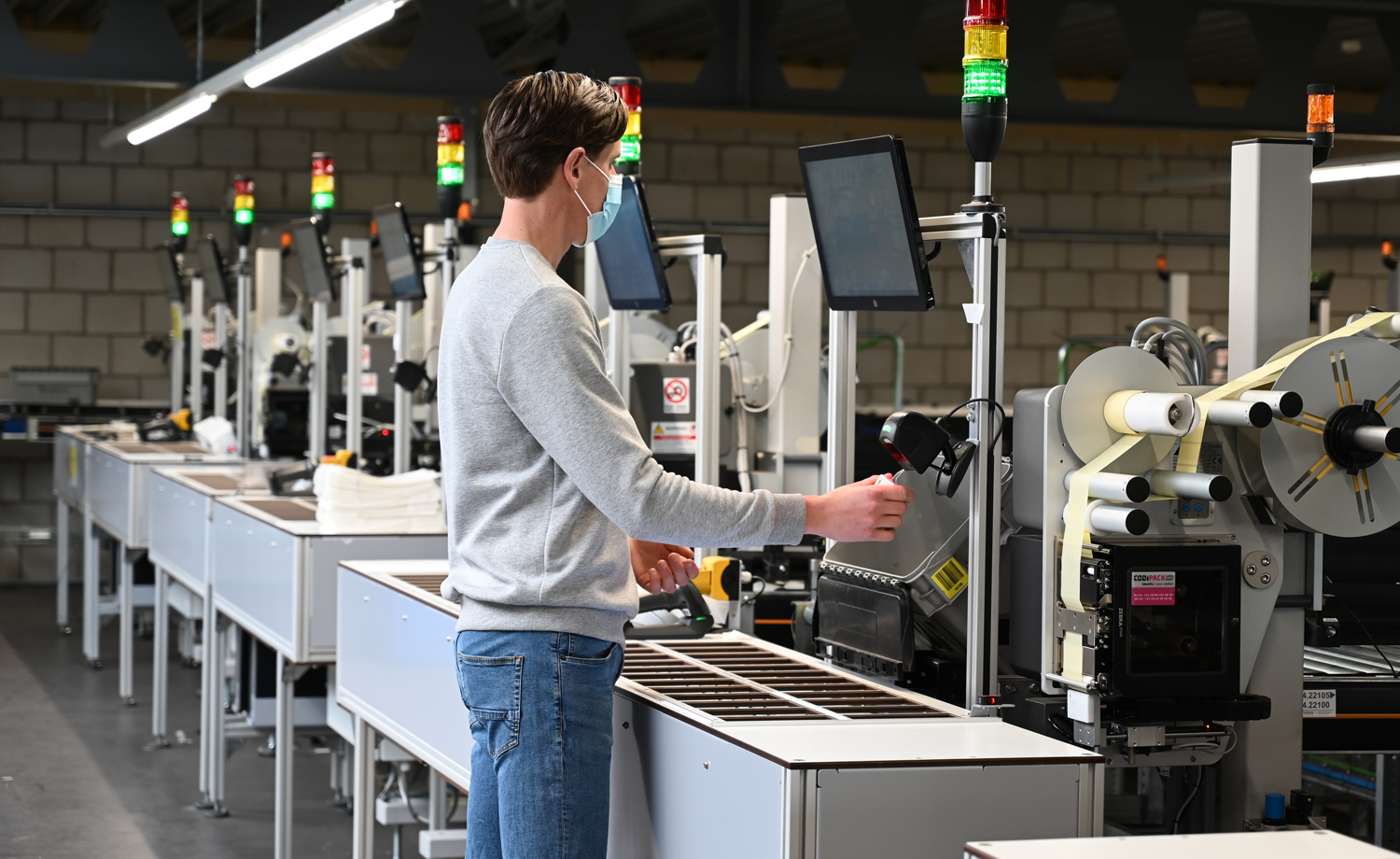 All-in-one-bag
A patient label is then printed for each article and applied to the article. The articles are distributed at patient or prescription level to the locations with illuminated LED strips indicating their proper destination. Sensors validate that the article has actually been placed in the correct location. When all articles have been distributed, the bags are taken out one by one and the patient label is printed and applied to the front of the bag. These are then placed back in the source tote which will then go to the shipping area and sent to the pharmacy. The benefit to the pharmacy is choosing from a wide range of medicines, no longer having to collect partial orders into one order at the pharmacy location and increasing automatic checkups that are built in throughout the process. In other words, the convenience of all-in-one bag!
Gerard van de Weert, Commercial Director Pluripharm Groep says: "The Central Filling system is a unique and important project for us, but especially for our customers. The system provides more flexibility and access to a very large stock. This, in combination with combining all medicines in one bag per patient or per prescription, makes it much easier for pharmacies to process the prescriptions to their patients.